OUR STORY
WHO ARE WE?
We are Stake Center LocatingSM, a locating powerhouse with extensive resources and decades of experience. Stake CenterSM and S&N Locating Services have transitioned into one company, operating in 48 states and Washington, D.C. with more than 700 employees and field personnel. We complete over 500,000 locate requests (and counting) each month.
OVER
500k
LOCATES PER
MONTH
WHY STAKE CENTER LOCATINGSM?
We care more. We fill a need in the market for an alternative to large locate firms where you get lost in the crowd and smaller regional firms that aren't as equipped to provide superior service.
Locating

isn't just what we do,

it's all we do.

It's our specialty and our passion at a time when damage prevention is critical, and accuracy is at a premium. At Stake Center LocatingSM, we understand you have a lot at stake. That is why we care so much about quality, accuracy, timeliness and protecting your infrastructure. Your customers rely on you to provide constant, uninterrupted service. You can rely on us to do the same for you. Stake Center is a locating company you can trust to take charge and take responsibility for getting the job done right. No shortcuts. That's the Stake Center promise.
SERVICES
Communication, electricity, cable, gas, large fiber optic networks—we've got them all covered. In fact, Stake CenterSM is the expert and market leader in high risk infrastructure and fiber optic network locating.
WE'RE IN THE PROTECTION AND PREVENTION BUSINESS.
So that means we are all about facilitating safe digging. Our expertise is knowing the different detection and location methods used to find these lines—and keeping safe anyone who would be impacted by damaged infrastructure. Whether it's building construction, road construction, or communications and utility installation, there are more and more risks of damage to your facilities today than ever before. We are proud of our accuracy record that shatters damage-to-locate ratios for the industry.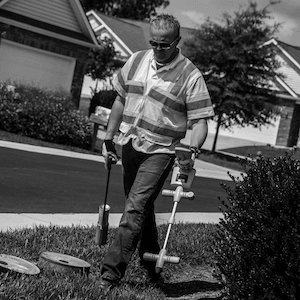 PRIVATE LOCATING SERVICES
For private locating needs, Stake Center also specializes in locating, marking, and mapping utility lines that are not covered by the 811 Call Before You Dig Process for both design and excavation projects.
SAFETY & ACCURACY
There's a lot at stake when it comes to your business, so we invest in safety and accuracy above anything else. There are no shortcuts in locating. That's why you can't rely on just any utility locating service to get your job done right the first time. Stake CenterSM lays it all on the line for our customers, ensuring high-level accuracy and safety on every job. Damage prevention to your infrastructure is our top priority.

ACCURACY
Accuracy is at the core of everything we do; we have the highest level in utility locating.

JOB SITE SAFETY
Our expectation is that each team member be responsible for not only their own safety, but for the safety of other team members surrounding them.

ADVANCED TECHNOLOGY
Equipped with the latest tools and technology, our locating teams eliminate damages, protecting the public and customers' facilities.

SAFETY TRAINING
Every individual that locates for us must pass rigorous safety classes held at one of our safety training facilities.